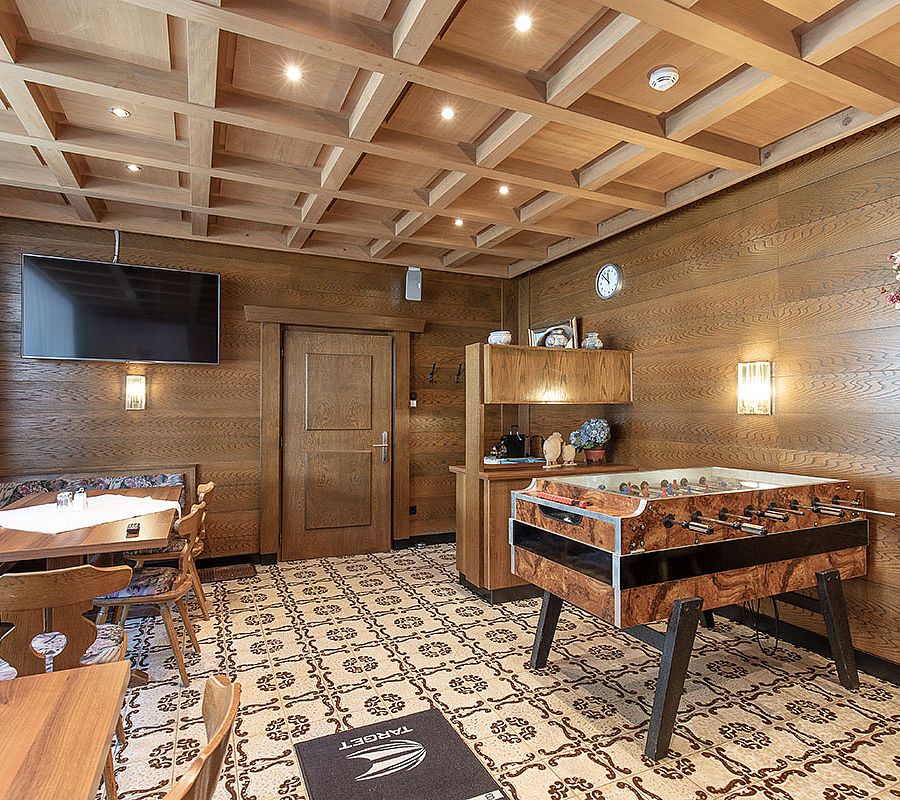 All prices are per day, plus local tourist tax (Euro 3.50 per person per day), including sauna and infra-red cabin, Ötztal Inside Summer Card (in summer), free WIFI.

For the end of stay cleaning we charge Euro 45.00 to 60.00 per Apartment. Dogs cost an extra Euro 10.00 per dog per day without food.

All services & further information can be found here.
| | | | |
| --- | --- | --- | --- |
| | 4 persons | 5 persons | 6 persons |
| 05.11.-22.12.2022 | € 200,00 | € 220,00 | € 240,00 |
| 23.12.-06.01.2023 | € 215,00 | € 235,00 | € 255,00 |
| 07.01.-27.01.2023 | € 200,00 | € 220,00 | € 240,00 |
| 28.01.-17.02.2023 | € 205,00 | € 225,00 | € 245,00 |
| 18.02.-03.03.2023 | € 215,00 | € 235,00 | € 255,00 |
| 04.03.-31.03.2023 | € 205,00 | € 225,00 | € 245,00 |
| 01.04.-10.04.2023 | € 215,00 | € 235,00 | € 255,00 |
| 11.04.-30.04.2023 | € 200,00 | € 220,00 | € 240,00 |
| | | | |
| --- | --- | --- | --- |
| | 4 persons | 5 persons | 6 persons |
| 01.05.-31.05.2022 | € 155,00 | € 175,00 | € 195,00 |
| 01.06.-30.06.2022 | € 152,00 | € 172,00 | € 192,00 |
| 01.07.-31.07.2022 | € 157,00 | € 177,00 | € 197,00 |
| 01.08.-31.08.2022 | € 160,00 | € 180,00 | € 200,00 |
| 01.09.-30.09.2022 | € 152,00 | € 172,00 | € 192,00 |
| 01.10.-04.11.2022 | € 175,00 | € 195,00 | € 215,00 |
| | | | |
| --- | --- | --- | --- |
| | 1-2 persons | 3 persons | 4 persons |
| 05.11.-22.12.2022 | € 100,00 | € 130,00 | € 150,00 |
| 23.12.-06.01.2023 | € 115,00 | € 145,00 | € 165,00 |
| 07.01.-27.01.2023 | € 100,00 | € 130,00 | € 150,00 |
| 28.01.-17.02.2023 | € 105,00 | € 135,00 | € 155,00 |
| 18.02.-03.03.2023 | € 115,00 | € 145,00 | € 165,00 |
| 04.03.-31.03.2023 | € 100,00 | € 130,00 | € 150,00 |
| 01.04.-10.04.2023 | € 115,00 | € 145,00 | € 165,00 |
| 11.04.-30.04.2023 | € 100,00 | € 130,00 | € 150,00 |
| | | | |
| --- | --- | --- | --- |
| | 1-2 persons | 3 persons | 4 persons |
| 01.05.-31.05.2022 | € 80,00 | € 105,00 | € 125,00 |
| 01.06.-30.06.2022 | € 77,00 | € 102,00 | € 122,00 |
| 01.07.-31.07.2022 | € 82,00 | € 107,00 | € 127,00 |
| 01.08.-31.08.2022 | € 85,00 | € 110,00 | € 130,00 |
| 01.09.-30.09.2022 | € 77,00 | € 102,00 | € 122,00 |
| 01.10.-04.11.2022 | € 85,00 | € 110,00 | € 130,00 |
Hahlkogel & Schartlaskogel & Hörndle & Wilde Geige
| | | | |
| --- | --- | --- | --- |
| | 2 persons | 3 persons | 4 persons |
| 05.11.-22.12.2022 | € 105,00 | € 135,00 | € 155,00 |
| 23.12.-06.01.2023 | € 120,00 | € 150,00 | € 170,00 |
| 07.01.-27.01.2023 | € 105,00 | € 135,00 | € 155,00 |
| 28.01.-17.02.2023 | € 110,00 | € 140,00 | € 160,00 |
| 18.02.-03.03.2023 | € 120,00 | € 150,00 | € 170,00 |
| 04.03.-31.03.2023 | € 110,00 | € 140,00 | € 160,00 |
| 01.04.-10.04.2023 | € 120,00 | € 150,00 | € 170,00 |
| 11.04.-30.04.2023 | € 105,00 | € 135,00 | € 155,00 |
| | | | |
| --- | --- | --- | --- |
| | 2 persons | 3 persons | 4 persons |
| 01.05.-31.05.2022 | € 85,00 | € 110,00 | € 130,00 |
| 01.06.-30.06.2022 | € 82,00 | € 107,00 | € 127,00 |
| 01.07.-31.07.2022 | € 87,00 | € 112,00 | € 132,00 |
| 01.08.-31.08.2022 | € 90,00 | € 115,00 | € 135,00 |
| 01.09.-30.09.2022 | € 82,00 | € 107,00 | € 127,00 |
| 01.10.-04.11.2022 | € 90,00 | € 120,00 | € 140,00 |
| | |
| --- | --- |
| | 1-2 persons |
| 05.11.-22.12.2022 | € 95,00 |
| 23.12.-06.01.2023 | € 105,00 |
| 07.01.-27.01.2023 | € 95,00 |
| 28.01.-17.02.2023 | € 100,00 |
| 18.02.-03.03.2023 | € 105,00 |
| 04.03.-31.03.2023 | € 100,00 |
| 01.04.-10.04.2023 | € 105,00 |
| 11.04.-30.04.2023 | € 95,00 |
| | |
| --- | --- |
| | 1-2 persons |
| 01.05.-31.05.2022 | € 75,00 |
| 01.06.-30.06.2022 | € 72,00 |
| 01.07.-31.07.2022 | € 77,00 |
| 01.08.-31.08.2022 | € 80,00 |
| 01.09.-30.09.2022 | € 72,00 |
| 01.10.-04.11.2022 | € 80,00 |
| | | | |
| --- | --- | --- | --- |
| | 2 persons | 3 persons | 4 persons |
| 05.11.-22.12.2022 | € 105,00 | € 135,00 | € 155,00 |
| 23.12.-06.01.2023 | € 120,00 | € 150,00 | € 170,00 |
| 07.01.-27.01.2023 | € 105,00 | € 135,00 | € 155,00 |
| 28.01.-17.02.2023 | € 110,00 | € 140,00 | € 160,00 |
| 18.02.-03.03.2023 | € 120,00 | € 150,00 | € 170,00 |
| 04.03.-31.03.2023 | € 110,00 | € 140,00 | € 160,00 |
| 01.04.-10.04.2023 | € 120,00 | € 150,00 | € 170,00 |
| 11.04.-30.04.2023 | € 105,00 | € 135,00 | € 155,00 |
| | | | |
| --- | --- | --- | --- |
| | 2 persons | 3 persons | 4 persons |
| 01.05.-31.05.2022 | € 85,00 | € 110,00 | € 130,00 |
| 01.06.-30.06.2022 | € 82,00 | € 107,00 | € 127,00 |
| 01.07.-31.07.2022 | € 87,00 | € 112,00 | € 132,00 |
| 01.08.-31.08.2022 | € 90,00 | € 115,00 | € 135,00 |
| 01.09.-30.09.2022 | € 82,00 | € 107,00 | € 127,00 |
| 01.10.-04.11.2022 | € 90,00 | € 120,00 | € 140,00 |
| | | |
| --- | --- | --- |
| | 1-2 persons | 3 persons |
| 05.11.-22.12.2022 | € 95,00 | € 120,00 |
| 23.12.-06.01.2023 | € 105,00 | € 130,00 |
| 07.01.-27.01.2023 | € 95,00 | € 120,00 |
| 28.01.-17.02.2023 | € 100,00 | € 125,00 |
| 18.02.-03.03.2023 | € 105,00 | € 130,00 |
| 04.03.-31.03.2023 | € 100,00 | € 125,00 |
| 01.04.-10.04.2023 | € 105,00 | € 130,00 |
| 11.04.-30.04.2023 | € 95,00 | € 120,00 |
| | | |
| --- | --- | --- |
| | 1-2 persons | 3 persons |
| 01.05.-31.05.2022 | € 75,00 | € 95,00 |
| 01.06.-30.06.2022 | € 72,00 | € 92,00 |
| 01.07.-31.07.2022 | € 77,00 | € 97,00 |
| 01.08.-31.08.2022 | € 80,00 | € 100,00 |
| 01.09.-30.09.2022 | € 72,00 | € 92,00 |
| 01.10.-04.11.2022 | € 80,00 | € 105,00 |